---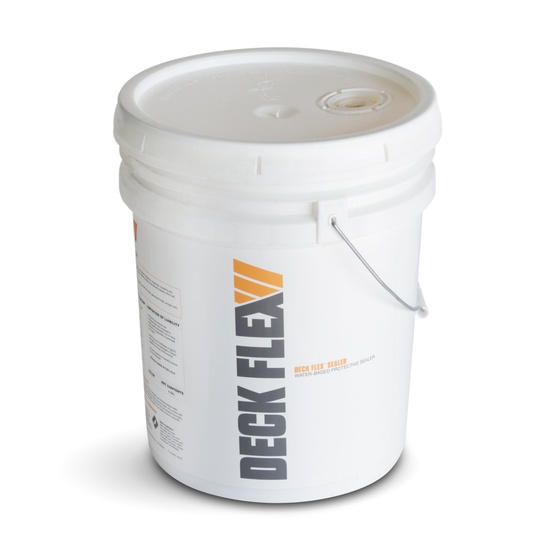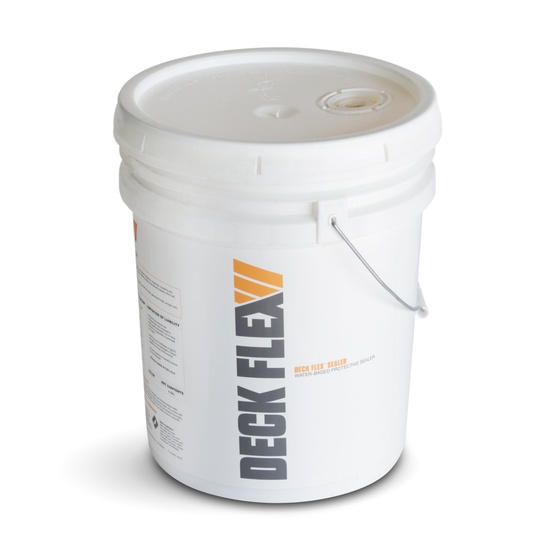 Clear Penetrating Protective Sealer
by Deck Flex
$195.00
Product Overview
- Provides protection against water, chemicals, weather and solvent
- Safe for residential and commercial use
- Apply via brush, roller or airless sprayer
- Dries to touch in 1 hour (varies depending on temperature)
- Allow 72 hours of dry time before foot traffic
- One Gallon (Covers up to 400 sq. ft.)
Recommended Surfaces & Usage
- Concrete / Concrete Walkways
- Garage Floors - Cement
- Galvanized Metal
- Wood / Docks
- Shingles
- Other Surfaces (always test a small area first or contact us)
Technical Details
- Finish Low Sheen / Semi-Gloss
- Modified Acrylic
- Solids by Weight 25%
- Solids by Volume 21%
- Viscosity 50KU
- VOC (less exempt solids) < 45 g/L.
- Weight per Gallon 10.92 lbs/gal
- General Dry Time 1 hour
- Recoat Dry Time 12 hours
- Light Foot Traffic after ~24 hours; Heavy Foot Traffic ~72 hours; Vehicle Traffic ~5days.
Use Deck Flex's Clear Penetrating Sealer to protect roof, garage and wood floors, docks, pool areas & more – for both residential & commercial use. Highly-rated.

INDUSTRIAL STRENGTH – A versatile, all-purpose penetrating protective liquid sealer, this professional sealer protects interior and exterior surfaces from weathering and everyday use.
ENVIRONMENTALLY-FRIENDLY – Safe for residential and commercial property surfaces, our water-based formula can also be used on docks and waterways. VOC: 0.35 lbs/gallon.
LASTING DURABILITY – Protect your surface for as little as $0.08/SqFt against water, chemicals, stains and solvents for maximum repellency and toughness.
EASY APPLICATION – Apply using a brush, roller or even airless sprayer. It goes on smooth and won't 'cake' for a professional appearance, dries clear without gloss.
MADE IN THE USA – Manufactured right here in the United States, this product is guaranteed to be made with high-quality craftsmanship and care.

Effective on Concrete, Cement, Galvanized Metal, Wood, Shingles and More
Provides Protection Against Water, Chemicals, Weather and Solvent
Safe for Residential and Commercial Use
Apply via Brush, Roller or Airless Sprayer
Dries to Touch in 1 Hour (Can Vary Depending on Area Temperature)
Allow 72 Hours of Dry Time Before Foot Traffic
One Gallon (Covers up to 400 sq. ft.)
Application Notes

Clean surfaces of dust, dirt, oil, loose granules, gravel, peeling paint and all other possible contaminants before application. Pressure washing entire surface is recommended for best results. Sealed surfaces may become slippery when wet; to reduce slipping, non-skid can be broadcast on these areas while they are wet and an additional coat applied. You should inspect sealed surfaces annually.